The master bedroom is such an important room in the house, yet often gets over looked. I, like most, thought, I will focus on this room when the rest of my house is complete because, after all, no one sees it but us. There it is. The truth behind why bedrooms are always neglected. You may think, I just sleep in that room, or I barely spend time in there so why spend the money and put in the effort? I totally get it but I am here to say, after giving my master bedroom a make over, this is now one of my favorite places in the house! It's a room I can go to when I want to have quiet time, cuddle up with a book or sleep soundly and comfortably. You can see by the picture below, the master bedroom was lack luster and a sad mixture of old furniture pieces and a bedroom set. In it's day, the bedroom set was very chic and contemporary. With today's trends, we have moved away from the espresso, matchy matchy look. Instead, today, we gravitate towards a well calculated mix of different pieces where all the furniture pieces compliment one another. Let's me take you through the various stages of my master bedroom…
My inspiration for this room came after being on holidays. I can't even remember even where I went but I knew that I wanted my room to feel like a luxury hotel room. By luxury, I don't necessarily mean high end finishes but more so the feeling of excess. I wanted a bed that had too many pillows on it, so when I was to read on it at night, I would have lots of comfort and support. I wanted a dark wall colour to create cocoon effect for a good night's sleep, and possibly even a nap. I wanted drapery that filled the wall to create a break in the dark. I wanted the room is feel luxurious in textures and volume. So, how would I achieve that?
I decide to start with the wall colour, knowing it would be navy blue. Benjamin Moore's Hudson Bay to be exact. I loved this blue from the moment I laid eyes on it. Of course, it matched my coveted Bay Blanket but aside from that, it is a pure navy. It doesn't sway purple, brown or grey. At first, the colour change was a shock, but now I love it (actually so much so I painted my dining room the same colour, but I will save that for another post).
Next, I needed to consider the bed side tables. Being that this room is far from grand, the tables needed to be narrow enough to allow the closet doors to open without hitting the furniture. This left me on the hunt of 12″-14″ wide side table that also provided storage. I found the pieces at Ikea and they fit the part perfectly. Not only are they skinny and affordable, they have the perfect amount of storage for a side table. To dress them up, I added brass handles from Lee Valley.
Next, I had to decide on what to do with my matching bedroom set. Being that it was still in good shape, I didn't want to get rid of it. I know that the next house we move into, this furniture will be moved to the guest bedroom, but until then, we are keeping it. To break up the sea of espresso colour, I decide to change the drawer fronts to a cream white (Benjamin Moore Cloud White) and change the handles to the champagne brass that is now the accent in the room.
From there, the room was put on hold for a while until I decided what to do next. I knew I wanted an upholstered headboard but didn't want to invest in a queen sized headboard, if eventually (when we move), we want to upgrade to a king size bed. Then I thought, moving could be in two years or five, so I went ahead with the linen upholstered headboard, as well as the beside sconces that I have been wanting for a while. Live in the now, right? If you have ever purchased lighting, you know it's not a cheap item. To make matters worse, we needed two, so it doubled the cost. But being that the side tables were so narrow, having wall mounted lights kept the table tops clear for our books and necessarily bedside items. And now, I wouldn't imagine the room without them (again, there is that hotel luxury feel just from a light!). Note that we went with plug in sconces from Lamps Plus so we did not need an electrician to install them. Instead, I hung them myself.
And without further adieu, the completed master bedroom….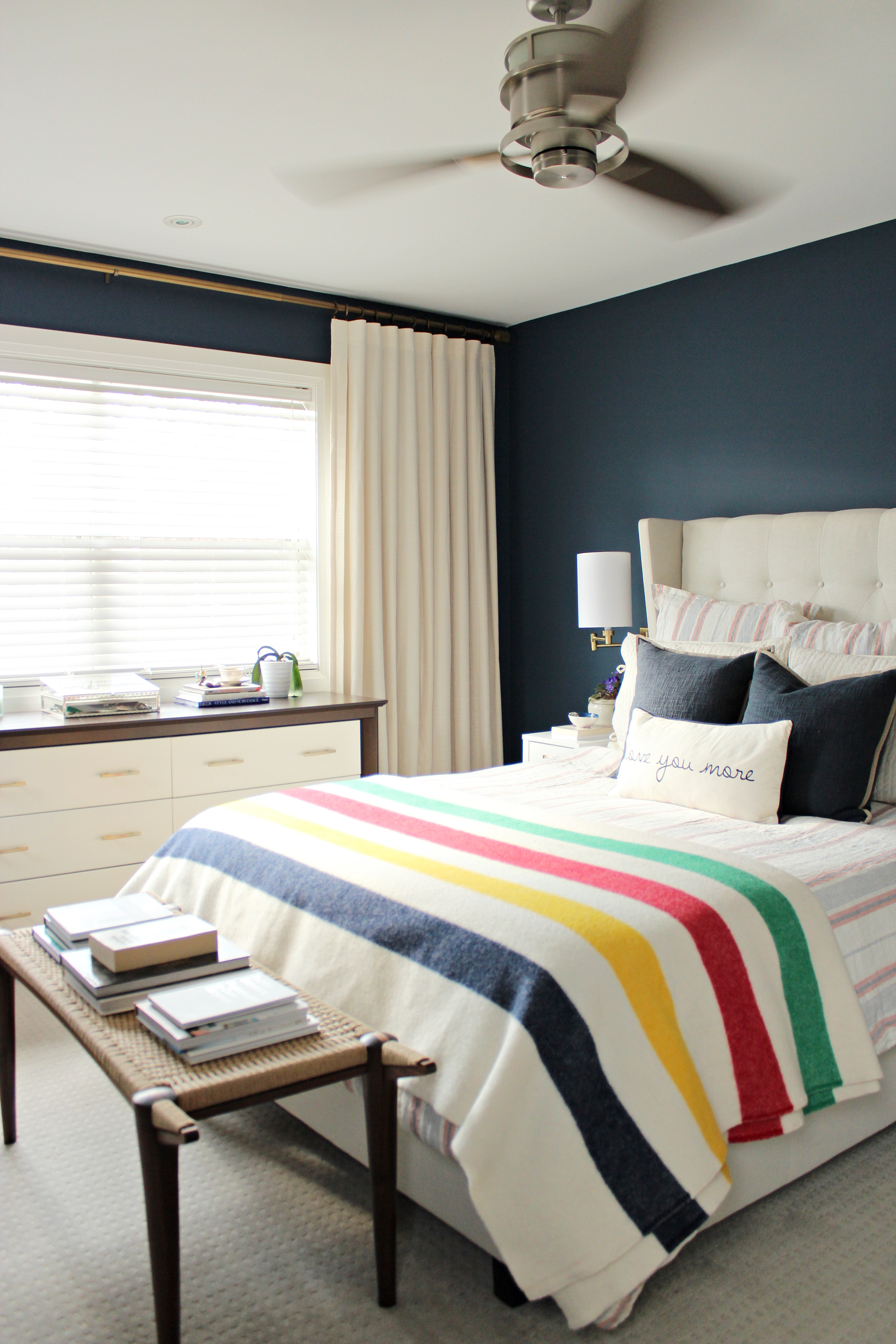 Doesn't it feel more grown up? Don't you just want to dive into that bed for a snuggle or a good book? I feel like I have created the space I was looking for. Finally! It's only been four years since we moved in for this day to come. As a matter of fact, the upholstered headboard was the first new piece of furniture, aside from the backyard furniture and some Ikea pieces, that we bought for this house. Most of it has been really great hand-me-downs that we still love to this day.
In addition to the headboard and side tables, we swapped out my old hope chest, which was bulky and "hopeless" in this room. Instead, while making a commission for a client, I asked Nick to make us the exact same bench because I loved the style of it. He used our bench as the prototype, which I was more than happy to be the guinea pig for. For more details on his bench, click HERE.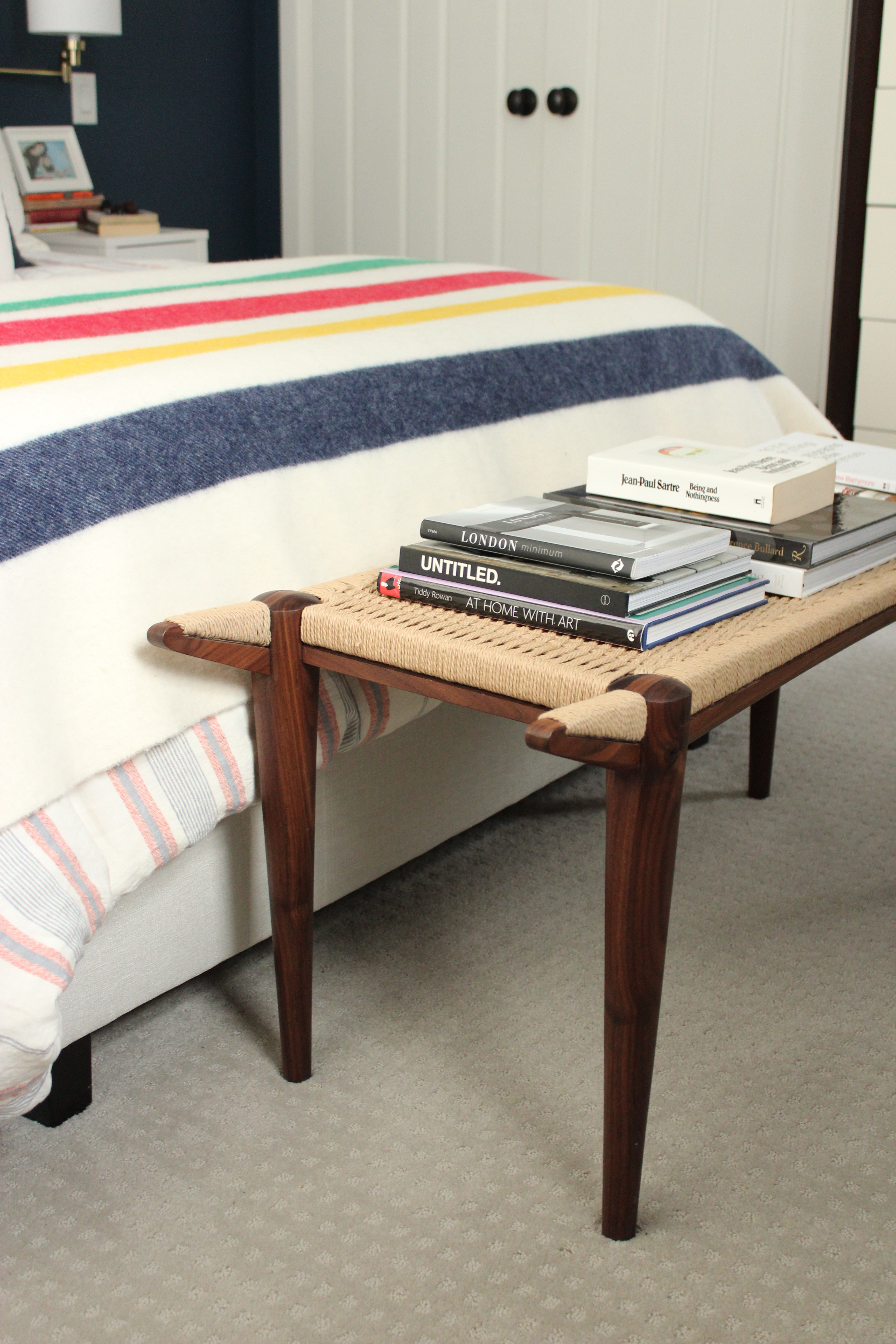 Our room has a beautiful long wall that originally I thought the dresser would go on, but once we moved in, the spacing was too tight. It currently sits under the window, which I actually love. This left us with a large wall that has had many, many different pieces of art on it. I decided that this was the place for my collage wall. I could put cherished pieces, photos and sentimental items (like my framed wedding invitation) that I don't really care if others see or not. The wall morphs every time we buy or add new piece, but I like that it's constantly changing. I must note as well, I decided for a wall clock to rid our room of an alarm clock beside the bed. I hate the fluorescent green light that would illuminate the room at night. Now, if I want to see the time, I will look at my phone (not the best option but I have to physically turn it on instead of just opening up my eyes). It took a while to get use to but now I love the darkness.
To finish off the room, I waited the longest time for my drapery to be installed and completed. I ordered this hardware from Crate and Barrel which was on back order for what seemed like months. Oh wait, no, it was months. My mom, who is a very crafty sewer, made me these draperies from ready made panels. Instead of purchasing yards of fabric, when these drapery panels went on sale, I snapped up four of them. The fabric was perfect and the length needed to be adjusted. Mom added a new header (the inverted top pleat) which now looks very custom and luxurious (there is that word again!). Hats off to Mom, as she saved me a fortune on these window treatments!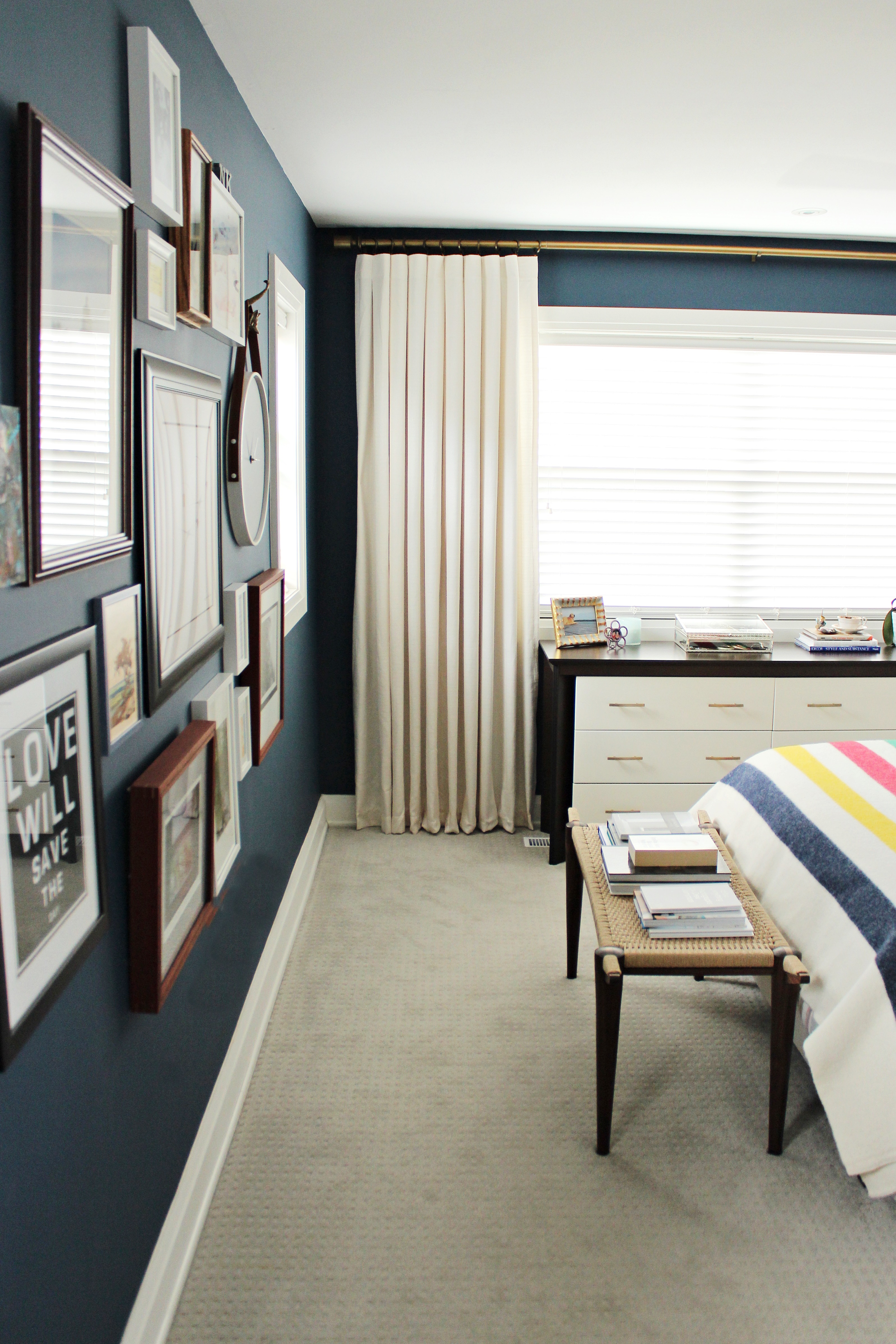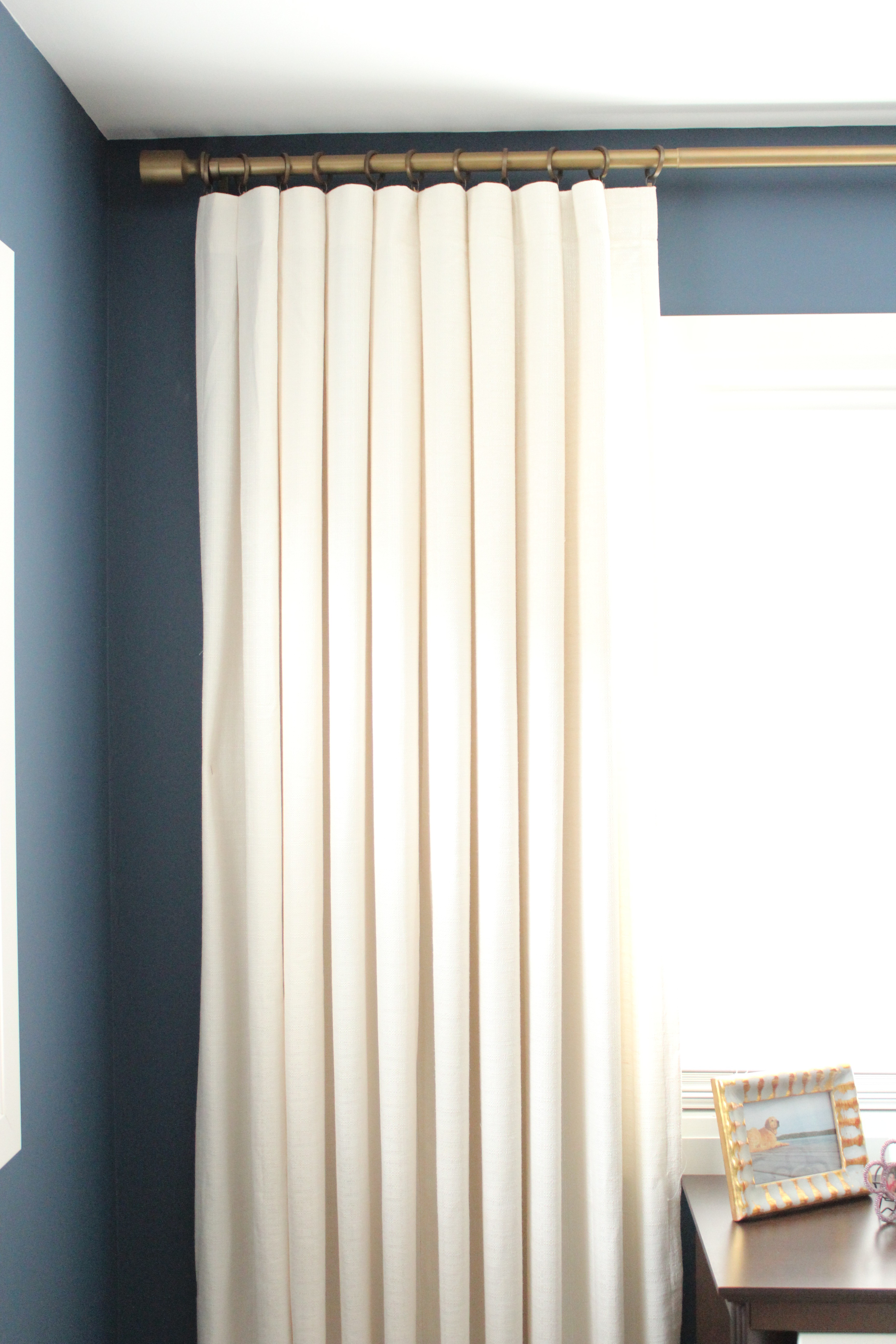 And that's the story of our master bedroom overhaul. As you can see, it's been a process, as most of the spaces I create for myself are. I had to execute in phases (the painting was done a year and a half ago) to keep myself within budget. Planning it out in small stages allowed the project to be manageable but also tested my patience. I can now say that this room is complete, for the time being. We may add a piece above the bed, but I like the simplicity of the blue wall, especially with the picture wall across from it.
Enjoy a few more detailed shots of the room…